NextGenMemorials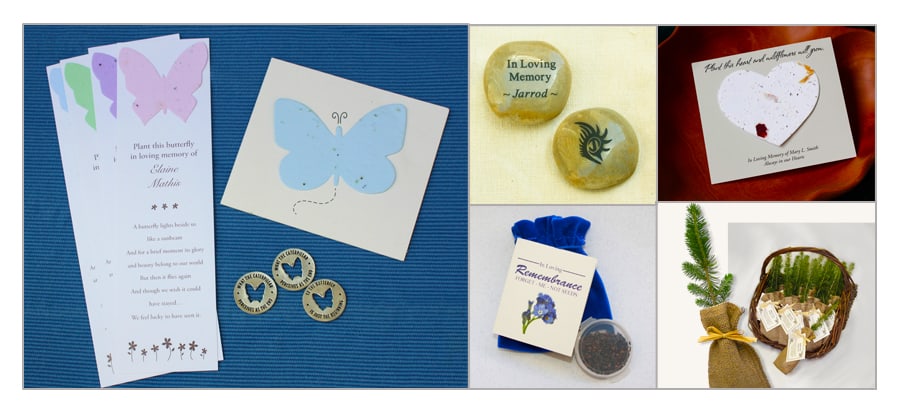 Your Resource for Memorial Service Ideas
We created this site to provide memorial service ideas and unique products to help you turn a funeral into a memorable celebration of life.
View this video to get started with five ideas to personalize a funeral or life celebration:

Life Celebration Products featured in video:

Most Popular! Our plantable seed bookmarks and plantable seed heart cards, plant the shape and wildflowers grow in memory!
All of these plantable seed memorial favors, cards and bookmarks are available for fast delivery.
Memorial products:
At NextGenMemorials.com, you'll find unique memorial service ideas and memorial products to help you through planning a funeral. You love our personalized memorial cards, memorial and funeral gifts.  Also, we have fabric travel urns that can be taken onto an airplane. Maybe organ music isn't your thing (it's not ours) look here for progressive memorial and funeral songs. It's possible that we have the largest selection of funeral or life celebration poems and verses anywhere.
Not sure what to say during a eulogy? We know giving a eulogy is not easy. Please read how to write a eulogy. Plus we have a free sample eulogy.
Our top selling items are the butterfly grow forget-me-not memorial bookmarks and plantable wildflower seed heart cards.  These are printed with your loved one's name. You plant the cards, and every time flowers bloom, you'll be reminded of your loved one. Also, they make a great funeral gift.  View all of our memorial grow card collection.
If you are looking to purchase an urn, you may want to read this guide to find an urn for ashes first. Or, how about a quick and easy-to-read book about planning a funeral?  It will lead you to creating a memorable life celebration.
Most of our beautiful and unique urns and seed products we design ourselves. More people are looking for modern options.  So we thought it was about time to give people more choices.