Jane in her Studio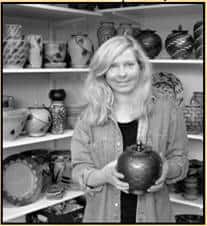 Potter Jane in her own words:
Pottery was not the career I planned but rather one that took me over. I went to law school, I became an expert in securities law, and I had a successful career in that field. Then, in 1987, a near miss with an airplane disaster caused me to reconsider what I wanted to do with this wonderful gift of life and what I wanted to leave behind. Over a period of time I discovered my passion for ceramics and by 1995, I was able to sell virtually everything I was making. Doing art as a business has not diminished my love for creating in clay. The type of work I do as an artist requires both design skills and craft, or technical skills. I was lucky to be born with a facility for design and a passion for decoration. I acquired the technical skills through night and weekend classes, internet and public library resources and lots and lots of trial and error.
The reason I feel so strongly about art as an endeavor is that I believe that our ability to be transformed by artistic experience is a highlight of our human nature. For me, making work that is beautiful, strong, and, hopefully, compelling, is a solitary enterprise. When I sign a piece it means that I believe the decoration, design and form have come together as an integral whole. It's a question of quality–not simply good or bad quality– but whether the pottery which comes out of my studio has the quality of a work of art and fulfills my goals as an artist.