Funeral Poems for Mom
Are you looking for poetry to read at your mother's memorial service or life celebration?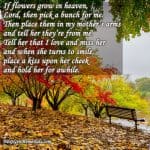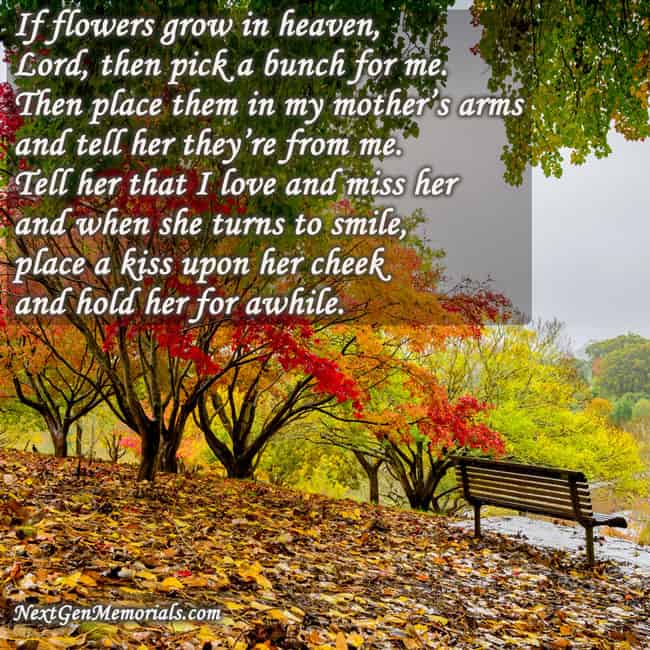 On this page, we provide many poems that can be read at your mother's funeral or memorial service. There are many different styles of poems, long and short. All of them are appropriate for a celebration of life for a Mom. The right funeral poem for Mom is a wonderful tribute to a loving parent.  Also they can be used as a funeral poem for Mother in Law.
A memorial poem can also be included in the funeral program. Or, a single poem or verse can be used to set a theme for the service. The same memorial poem can be used in the eulogy, on the service folder, on place cards, on bookmarks and on thank you notes. For more ideas, download our book, Planning a Celebration of Life.
Funeral Poetry for Mom
Mother
We had a wonderful mother,
One who never really grew old;
Her smile was made of sunshine,
And her heart was solid gold;
Her eyes were as bright as shining stars,
And in her cheeks fair roses you see.
We had a wonderful mother,
And that' s the way it will always be.
But take heed, because
She's still keeping an eye on all of us,
So let's make sure
She will like what she sees.
---
Gone From Us …
Gone from us that smiling face,
The cheerful pleasant ways,
The heart that won so many friends,
In bygone, happy days.
A life made beautiful by kindly deeds,
A helping hand for others' needs.
To a beautiful life,
Comes a happy end,
She died as she lived,
Everyone's friend.
Author Unknown
---
….Who She Was
The memories of the past are vague
The hurts are forever and forgiven
What I have today is what there is forever
And those are the memories of all I have to hold on to.
In my mind I remember a face – one of beauty
One with rarely a frown
And almost always a smile
Never a harsh word – just a kind gentle smile
I hear her voice as she says kind words to all who she knew
The words were always soft
And they were who she was
I will forever hear her say "Hi Honey" soft and gentle was her voice
In the air I breathe
I know she is there
To guide and protect all who she loved
I will forever be grateful
I was born through her to love
I am now who she was
Amanda for her mother, Bonnie Hampton
>> Scroll down for more funeral poems for Mom.
---
Choose one of our poems to engrave on the frame.
More Funeral Poems for Mom:
You can only have one mother
You can only have one mother
Patient kind and true;
No other friend in all the world,
Will be the same to you.
When other friends forsake you,
To mother you will return,
For all her loving kindness,
She asks nothing in return.
As we look upon her picture,
Sweet memories we recall,
Of a face so full of sunshine,
And a smile for one and all.
Sweet Jesus, take this message,
To our dear mother up above;
Tell her how we miss her,
And give her all our love.
---
The Watcher
She always leaned to watch for us
Anxious if we were late,
In winter by the window,
In summer by the gate.
And though we mocked her tenderly
Who had such foolish care,
The long way home would seem more safe,
Because she waited there.
Her thoughts were all so full of us,
She never could forget,
And so I think that where she is
She must be watching yet.
Waiting 'til we come home to her
Anxious if we are late
Watching from Heaven's window
Leaning from Heaven's gate.
---
For all the times you gently picked me up
For all the times you gently picked me up,
When I fell down,
For all the times you tied my shoes
And tucked me into bed,
Or needed something
But put me first instead.
For everything we shared,
The dreams, the laughter,
And the tears,
I love you with a Special Love
That deepens every year.
Thank You Mom
>> Scroll down for more funeral poems for Mom.
---
These plantable heart cards can be personalized with your mother's name and distributed to friends and family. They can then plant the heart and wildflowers will grow in her memory. Find seed cards here. More memorial gifts
Tributes to Mother at her Funeral
You can shed tears that she is gone
or you can smile because she has lived
You can close your eyes and pray that she'll come back
Or you can open your eyes and see all she's left
Your heart can be empty because you can't see her
or you can be happy for tomorrow because of yesterday.
You can remember her and only that she's gone
or you can cherish her memory and let it live on
You can cry and close your mind, be empty and turn your back
or you can do what she'd want:
smile,
open your eyes,
love
and go on.
Author Unknown
---
The Magic of a Mother's Touch
There's magic in a Mother's touch,
and sunshine in her smile.
There's love in everything she does
to make our lives worthwhile.
We can find both hope and courage
Just by looking in her eyes.
Her laughter is a source of joy,
her works are warm and wise.
There is a kindness and compassion
to be found in her embrace,
and we see the light of heaven
shining from a Mother's face.
---
What is a Mom?
A mom is one of life's best gifts,
Someone to treasure all life through,
She's caring and loving,
Thoughtful and true,
Someone who is always a special part of your life,
Someone who holds a prime place in your heart,
She's a mentor, a confident and also a friend,
Someone on whose love you can depend.
A mom always has your best interests at heart,
She's someone so dear and so good,
She's a blessing, she's a gift,
She's a treasure like no other,
She's someone that is truly wonderful.
Wherever you go, and whatever you do,
A mom's love will always see you through,
A mom is truly invaluable,
Indispensable and unforgettable.
I wouldn't want anyone but you,
And that's why I'm so grateful,
that life picked you for me.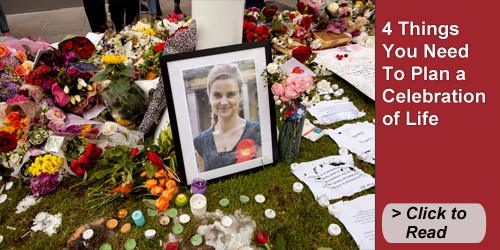 ---
As We Look Back
As we look back over time
We find ourselves wondering …..
Did we remember to thank you enough
For all you have done for us?
For all the times you were by our sides
To help and support us …..
To celebrate our successes
To understand our problems
And accept our defeats?
Or for teaching us by your example,
The value of hard work, good judgement,
Courage and integrity?
We wonder if we ever thanked you
For the sacrifices you made.
To let us have the very best?
And for the simple things
Like laughter, smiles and times we shared?
If we have forgotten to show our
Gratitude enough for all the things you did,
We're thanking you now.
And we are hoping you knew all along,
How much you meant to us.
---
If flowers grow in heaven
If flowers grow in heaven,
Lord, then pick a bunch for me.
Then place them in my mother's arms
and tell her they're from me.
Tell her that I love and miss her
and when she turns to smile,
place a kiss upon her cheek and hold her for awhile.
>> Scroll down for more poems for funerals for Mother.
---
MOM
You fed me well, you made me strong
You taught me to know right from wrong
You made me feel that I belong
You showed me the value of a song
You gave me life, you gave me love
You always knew the way I feel
You used the words you thought might heal
You convinced me it was no big deal
Your advice would keep it real
You gave me life, you gave me love
Broken hearts you liked to mend
It was not in your nature to offend
Birthday cards you'd always send
You knew the value of family and friends
You give me life, you give me love
You left me now, you've gone away
I'm left behind, I have to stay
So I'll just have to pray
I'll meet you again another day
You always had that 'special touch'
I loved you so very, very much
You gave me life, you gave me love
Please watch over me from above.
---
To Those Whom I Love and Those Who Love Me
When I am gone, release me, let me go
I have so many things to see and do
You must not tie yourself to me with tears
Be happy that I have had so many years
I gave you my love, you can only guess
How much you gave me in happiness
I think you for the love each have shown
But now it is time I traveled on alone
So grieve a while for me, if grieve you must
Then let your grief be comforted by trust
It is only for a while that we must part
So bless the memories in your heart
I will not be far away, for life goes on
So if you need me, call and I will come
Though you can not see or touch me, I will be near
And if you listen with your heart, you will hear
All of my love around you soft and clear
Then, when you must come this way alone
I will greet you with a smile and a
"Welcome Home"
Mary Alice Ramish
---
You might like these memorial songs that can be used for your Mom's funeral or celebration of life:
♫ You are so Beautiful to Me by Joe Cocker
♫ Wind Beneath My Wings by Bette Midler
♫ The Baby by Blake Shelton
♫ Because You Loved Me by Celene Dion
♫ I am Your Child by Barry Manilow
♫ Sissy's Song by Alan Jackson
View our extensive collection of memorial songs and read the lyrics and play a sample.
Ideas you can use to create a memorable Celebration of Life: (click on photo for more info)
See a list of all our funeral ideas helpful pages.
Funeral poems for mom, Tribute to mother at her funeral, Funeral poems for mother in law.